Success Stories
Did you adopt from Fancy Cats? We would love to share your adoption story and photos of your new family member. Please email us.
Looking for material on your cat? Online listings of adopted cats may be found on our Adopted! page.
Page 1 | Page 2 | Page 3 | Page 4 | Page 5
Savannah
Savannah's doing really well! What an awesome friend!
—Stephanie
Leo
Last night Leo came to me and jumped on my lap. He is very patient with the kids. They are learning to respect him and know the boundaries. He has also already used his litter box and found a nice sunny spot in his room!
Minnow
I adopted Minnow (previously known as Safira) from your rescue last year. She's enjoying her forever home - and eagerly awaiting St. Nick.
Veronica Baker
Anna
Well, it's been a week since Anna came home with us. She is such a tootsie pie. Her special way of giving fairy kisses (little tiny sniffs around the edges of my mouth) was the first thing she did when you opened her cage and that she continues to do whenever she has the chance. What a great way for bonding!
Anna loves to sit on the old armchair and doze, and really enjoys watching the action in our backyard. She rolled over on her back minutes after we opened the carrier door.
Thank you again for making this a perfect Thanksgiving in the Bell household. Have a wonderful Holiday Season.
Bella
I've been meaning to thank you and tell you how wonderfully everything has worked out! I adopted a female who was called Jasman at the time, but I changed her name to Bella. (There was another cat there named Bella, and I really liked that name.) The volunteers I dealt with at PetSmart that evening were fantastic! They were so friendly and helpful. I brought Bella home, and I think she was acclimated to my place in less than an hour. Naturally, she explored, and then the first two nights she slept on my pillow with me. From then on, she has slept at the foot of the bed every night, and curls up in my lap if I take an afternoon nap on the couch. She is just SO affectionate!
I'd forgotten what it's like to have a young cat, because my previous cat was almost 22 years old. Bella is a crazy one, and has even jumped up on top of the bedroom door—about 1-1/2 inches wide—and balanced there as if she were sitting on a table. It's amazing! I don't know how she does it! But she is just wonderful, and I look forward to many years with her as a companion.
Gina
Mini Blue (aka Missy)
Here are a couple of pictures of Missy, who after long deliberation and conversation, now answers to her new name "Minnie Blue." She is adjusting very well. She loves to snuggle in bed and sleeps with me all night long. I set aside time to play with her and she loves to chase her toys around the house. She also fetches and will bring her stuffed mice back to me time after time to play. I took her to the vet for a check-up, even though all her shots are up to date. Minnie Blue has lost 1 pound and seems to be toning up a bit. The Dr. conducted a full blood panel and everything came back normal. Mins is having a normal litter, drinking and eating just fine, and has good energy. Also, she is not fussing about food or acting hungry. We are still experimenting with food however. She loves Fancy Feast, but I am trying to wean her on to Natural Balance, Wellness, or Blue Buffalo. We'll see.
Best of all, Mins is getting used to being held and touched more. We have many "gentle-touching" moments; and time out for "mandatory hugging." One final note: I don't think she is a Maine Coon. I do think she is (or, at least partly) British Shorthair. She has all the characteristics of a Brit and could even be pure bred, except for those beautiful blue eyes which are unusual I think for a British Shorthair. Minnie Blue is an adorable kitty and I love her very much…
Sammy
Dear Fancy Cats,
Sammy (formerly Sebastian) is doing great! He's been with us over a year now and he's a wonderful addition to the family. He was with you guys for a long time because his legs are congenitally malformed and everyone thought there was something wrong with him. There's nothing wrong with this sweet boy except his legs are a bit crooked, and it doesn't slow him down a bit! He has special kitty stairs so he can get up to the windowsill and he loves to sit there and watch the squirrels. He's a total lap cat and loves to cuddle up with me and purr. Thank you for taking such good care of him until he came home. I promise I will always take as good care of him as you all did!
We adore these kitties. Thank you for taking such good care of them!
Isis
Dear Fancy Cats,
I wanted to write and tell you what a great addition Isis has made to our family! We lost our two cats to old age and kidney disease in 2005 and 2008, and had no other pets until we started fostering Isis in 2011. We knew we wanted a cat, but one of our kids tested as highly allergic on an allergy test. We were skeptical of the results, since he never had a problem with our prior cats, but we were reluctant to adopt nonetheless. We decided to give a 30-day "cage break" to one of the fancy cats and see how the allergy situation went. We were told that Isis was desperate for a cage break—she was sad and depressed, and understandably so; she had been waiting over a year to be adopted!
Isis settled in to our home beautifully. She kept to herself in the basement for a few days—she was happy to sit with us if we came down, but she was hesitant to come up. But eventually she wandered upstairs and made herself at home. She likes nothing better than to snuggle next to you or on your lap, and she is a purring machine! When we go to bed, so does she; she follows us upstairs and curls up on the bed. During the day, she has a favorite spot by the living room window, where she can see all the neighborhood goings-on. She also has a cozy cat bed in a quiet corner of the basement, where she loves to nap.
Isis makes her feelings known. She has quite a repertoire of meows—including a "here I am, pet me" meow, a "feed me" meow, and a "don't bother me right now or I might hiss at you" meow. We've come to know and love her quirks.
It was clear right away that we wouldn't be able to give her up in 30 days. The cage break stretched into a fostering arrangement, and after two months, with no signs of allergies from our son, we adopted her permanently. She recently had a checkup at the vet and passed with flying colors. We're attaching a couple of pictures, including my all-time favorite of her cuddled up on the bed next to my husband.
There are so many great cats out there who just need homes. They demand so little—food and water, a clean litter box, and a lap to curl up in. We're happy that we found Isis and she found us.
We adore these kitties. Thank you for taking such good care of them!
Misha and Barney
Misha and Barney (Jinx) are great! Misha has taken over the whole house—she loves "her" king sized bed and spends every night with us and the dog! She crabs a little at the other cats, and bosses us around, but we love her so much. She is very much a Mama's girl and hangs out with me most of the time.
Barney has come so far in short period of time. He was terrified of the dogs at first, but he was soooo curious about everything he just couldn't bring himself to hide somewhere. He follows us everywhere and is very popular with the other cats. We love his goofiness and sweet nature. He is more a daddy's boy, but he lets me kiss and pet him. He really has such an outgoing, friendly personality. It's hard to get a good picture, but I'm sending you what I got.
We adore these kitties. Thank you for taking such good care of them!
Otto
Ken, who adopted our sweet indoor/outdoor kitty named Otto sent a lovely update with AWESOME pictures.
Otto is doing great, I still can't believe how much energy he has for a 10 year old cat. I've been letting him out in my backyard, but he hasn't been interested in going out in bad weather or when it's too cold.
Sitara
Dear Fancy Cats,
Heidi, now known as Sitara, is doing fantastic, still following me around everywhere, sitting in my lap, and sleeping with us. She hides under the covers, she makes herself a little burrow, and she talks like there is no tomorrow! She follows me in the bathroom, makes puddles near her water bowl… she also helps me with laundry, making the bed, and typing for me on the computer. We just love her to death and could not be happier!
Mighty Mouse
Dear Fancy Cats,
When I called about taking in a foster last summer because you all were having an emergency, I remember Cathy saying she had others that might do better with dogs but that the light was going out of Grady's eyes, so I picked him :-) I can totally see him being way cranky with people trying to touch him… he definitely likes it when he does, and doesn't when he's stressed, which I can imagine he was (he'll bite you if you don't watch out!). A couple people called afterward, but I felt like he really required someone that understands living with animals—they get to say no, and communicate very effectively, and you love them the way they are. So I kept him, and MAN am I a sucker for that big cream belly! I think the crankypants act is hysterical—but then again I have two big personality dogs so I get it already. Got him on some high-end food too—cleared up some of his moodiness and all of his dandruff. The light is definitely back :-)
He's fantastic, and it has absolutely been my utmost pleasure to be his furever mama! So thank you all for taking care of him until I got there!
Ava
Hi, Anne,
It's been four months since I drove from Baltimore to adopt the tortoiseshell, Ava (now called Fiona), from your group at PetsMart. I thought that you might enjoy seeing the attached picture with two of our other three cats (from left: Chloe, Sabrina and Fiona - all rescues). Fiona is thriving, though I think she will always be small and not prone to fat. She has really bonded with Sabrina, who is about the same age, and they play like litter mates. She's a great fit in our family, and I am so glad that you and your group rescued her. She loves sitting in windows but has very little interest (understandably!) in actually going outside.
Thanks for the great work you and your associates do!
best - Eileen
Olive
We recently heard from a family who adopted Olive, a beautiful gray girl, and saw that one of her kittens, now a teen, Charlotte, was in the adoption center. They decided to adopt Charlotte too and things couldn't be better! Here is her news:
They are doing so well and love each other so much. While Charlotte can be more independent during the day and often stays upstairs, she is always happily snuggled up on my daughter Hannah's feet every night. The other morning Olive, Charlotte and Lucy even managed to hang out on the bed together. I think they are grateful to have each other again. Our family is now complete!
Carly
Dear Fancy Cats
Carly is doing great! She is a wonderful addition to our family. We wouldn't trade her for any cat in the world! She sleeps with us every night! She curls up in my arms and actually puts her head on the pillow next to mine! So adorable! She loves attention from us, especially when her Daddy brushes her each night! And so far, she seems to be more afraid of her two bunny brothers than anything!
I can't thank Fancy Cat's enough for saving Carly's life. She brings us so many smiles each day. So I always think about how close she was to being killed at the shelter. She is a precious little life, full of personality! We'll never forget when we first saw her in Pet Smart. Each time we're in there, we always stop to look at the cats. When we first saw her, she must have been new, because there was no tag displayed with her information. Both my husband and I were immediately drawn to her for some reason. I usually say, "Let's hold some cats", and my husbands typical response is usually, "No, then we'll want to adopt it and we can't right now." But on this particular night, my husband actually said, "We should ask to hold her, she's so cute!." So of course I was all for that idea! When I first held Carly, she rubbed her head against mine and started purring! By the look on my face, my husband said, "She's coming home with us." We completed an adoption application that night, and went back to Pet Smart the next day to meet with Fancy Cat's volunteers. They were having an adoption fair, and there were plenty of adorable kittens and cats there. But our hearts were drawn to our Carly. How could we resist her cute little chocolate chip nose?!?!
Fancy Cat's volunteers were so great; very friendly and helpful. Thank you for saving our Carly, and for giving all the other cats a second chance at the life they deserve.
Sincerely,
Darlene and Wade
Flounder & Cotton
Dear Fancy Cats:
Flounder & Cotton are doing great! They wrestle and play in the morning and have races around the house in the middle of the night. Upon meeting my dog, all looked at each other and then walked away as though it was no big deal. Cotton did take a couple swipes at my dog but since then there have been no conflicts at all. My dog occasionally nudges them playfully and they tolerate her nicely. Cotton is much more affectionate than Flounder, so while I was not at first thinking I would like a white cat, he has really become my favorite of the two. Flounder is sweet, too, just doesn't like to be held. He spends a lot of time around me when I'm getting ready to go out anywhere. Haven't gotten a picture of them all together yet.
I couldn't have asked for a more perfect match! Thank you for suggesting the two of them be adopted together.
-Linda
Eko
Dear Fancy Cats:
"Eko joined our family on Sept 30, 2010. She's a very warm and friendly little girl. She is quite talkative and has claimed not only one toy of Midnight's (our little boy kitty of seven years), but several. Midnght doesn't even mind. He has been very attentive and quite enamored over his new friend. Finally after our move here to Virginia, Midnight now has someone to share his life. The funniest thing Eko does is when she talks. While having a conversation she performs her "signature" hiss, as my husband calls it, for any reason. To watch her do this is just hilarious. She's definitely a wonderful addition to our family."
Sincerely,
- Anita
Eko
Kaya
Like many adoptors, Elizabeth was a little concerned about Kaya's age/health when she first met him and was hesitant to adopt from a shelter/rescue because most cats are so sick. Her vet visit restored her faith in that there are plenty of healthy kitties that just lose their homes and need a second chance to have a home and to be loved.
---
Kaya
Dear Fancy Cats:
Kaya passed (his vet visit) with flying colors! Weight 15 lbs 3oz - fit and trim. Heart/lungs/teeth/ears etc. - excellent! "Even 4 year olds don't look that good", my vet said.
You all did a great job with Kaya and he is off to a great start with his new life!
Thank you, and hugs from Kaya.
- Elizabeth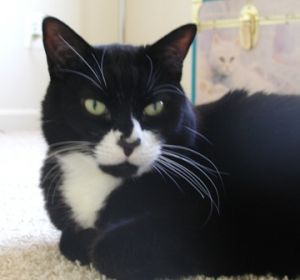 Kaya
Tiger Lily (formerly Lily)
Dear Fancy Cats:
Lily is doing fine and I just love her. I call her Tiger Lily. I fear that she has become a very spoiled girl. She is a very sweet kitty and very playful. More like a puppy cat. She greets me at the door when I come home from work. We race up and down the stairs and she waits for the "on your mark, get set, go" before she takes off. She always wins! We play a lot together and she has her own spot on my bed (actually she takes up half of my queen bed). I am giving her water in her wet food and she only gets the prescription dental kibble after her wet food (she thinks it is a treat!)
Lily is just what I wanted. Thank you very much for rescuing her. I am so glad I got her.
- DeAnn Jelinek
Tiger Lily
Emma
Dear Fancy Cats:
She is such a great cat and definitetly a great addition to us. She has settled in well. She loves to cuddle when I go to bed and is actually my back up alarm clock. She always makes sure she is hanging out with us and follows me especially all over the apartment. And she loves to play all the time. Sometimes she will come up to me and tap me on the arm when she wants to play. It is just too cute. You can definitely use her story if you want to. I feel that more people need to know about adoption of shelter animals and I am a big advocate of it.
Once again, thanks for everything.
- Amy
Emma
Tillie (Matilda)
Tillie was found as a stray. Through fostering, Fancy Cats learned that she was very friendly. Her foster family took her to adoption fairs right after receiving her and learned that Tillie has a habit of pooping when she's scared or startled. Upon learning this, it was decided that transporting her back and forth from adoption fairs and her foster home wasn't the best way to keep her from being scared and easily startled when meeting new people. Thus, Tillie found a temporary home at Springfield's adoption center where she was well loved, groomed, and cared for until the right family found her.
---
Dear Fancy Cats:
I just wanted to drop you a quick note to update you on Miss Tillie Clement. She is doing wonderful! Her doctor's visit went well.
She now has full run of the house along with her sister Honey. Tillie chooses to stay close to her room most of the day now. She ventures out to explore and will sit on my lap when I convince her it is ok. She is getting more comfortable each day that goes by. Yesterday she came running through the living room, made a u turn and back to the bedroom. I called her to come back and she came running to me. The look she gave me seemed to say "What do you want? I'm busy playing!"
She is so beautiful!
Thanks,
- Kathy
Tillie
Sylvester (Tails) and Sebastian (Buttons)
Buttons, now Sebastian; and Tails, now Sylvester, began their journey to their new home when their first owner moved away and left them behind. A neighbor fed them for awhile and then dropped them off at a high kill shelter. Fancy Cats took them in before they were euthanized. The pair were adopted together.
Dear Fancy Cats:
This is a picture of Sebastian (Buttons) and Sylvester (Tails) doing their evening ritual of sleeping on my lap while I'm watching TV.
These are the best boys!!!
Sylvester is still a bit "skittish" with loud noises like the ice dispenser on the fridge, or when someone comes over but they do love us!!
We are so happy with them and thank you again for keeping them for us.
Thanks again! Take care.
- Jackie

Tails/Sylvester is a classic black and white tuxedo.

They both know that Jackie's lap is their spot in the evenings.

Buttons/Sebastian sports half of a Groucho Marx mustache.
---